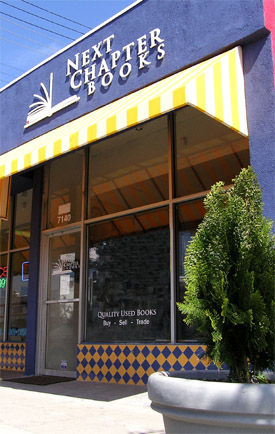 Visit our store in Canoga Park and browse a wide selection of quality used books. We stock thousands of books (both hardcover and paperback) ranging from the latest releases to rare and collectible books. You'll find many different genres, with great depth in U.S. military history, biographies (presidential, entertainment & general), aviation and space. We also have a large selection of science fiction & fantasy. Come to Next Chapter Books for your reasonably priced, quality used book needs, offered to you in a friendly, down home atmosphere.
Visit us at:
21616 Sherman Way
Canoga Park, CA 91303
(
Google Map
)
Free parking in back of store, metered parking in the front.
Hours:
11:30AM to 6:00PM
Monday - Saturday
Call us:
(818) 704-5864
E-Mail:
info@nextchapterbooks.com
We accept VISA, Mastercard, American Express, Discover, Checks and Money Orders